UNIDENTIFIED WHITE MALE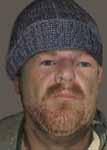 Date Missing: November 27, 2004 BODY RECOVERED
On November 27, 2004 an unidentified white male was found deceased in a green sleeping bag along the Deschutes River in Bend, Oregon, near Meadow Camp.
The victim was dressed for the elements; wearing a gray stocking cap, black coat, brown extra large sweater, gray sweatshirt, black Levi jeans, gray wool socks and brown Danner boots. He also had an orange backpack with him. The victim appeared to be homeless.
The victim's estimated age is between 40-50 years old. He is approximately 6'0" and 180-190 lbs. The victim has brown hair with a beard and mustache.
It does not appear this death was the result of foul play.
If you have any information on this case, please contact Detectives with the Deschutes County Sheriff's Office at 541-693-6911.