Wickersham, Susan Ann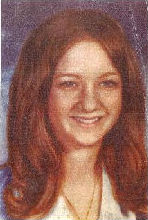 Date Missing: July 11, 1973
Susan Ann WICKERSHAM
(DOB 11/21/1955)
WICKERSHAM was a seventeen year old girl who was born and raised in Bend and had just finished her junior year at Bend High School. She is described by her friends as a likeable young lady with a bubbly outgoing personality. On the evening of July 11, 1973 WICKERSHAM and a friend had been cruising town in her mother's car. After taking her friend home, WICKERSHAM delivered the car to the Sage Room Restaurant (in downtown Bend near the Tower Theater) where her mother worked. WICKERSHAM told her mother that friends were going to pick her up in front of the restaurant and take her home. WICKERSHAM left the restaurant at about 11:30 PM and was last seen walking toward the Owl Rexall Drug Store on Wall Street. On January 20, 1976 skeletal remains and some personal items were found by a wood cutter approximately five miles south of Bend in a wooded area behind a weigh station on Hwy 97. The remains were identified as WICKERSHAM through dental records and the recovered personal items.
Examination of the skull by the state medical examiner's office determined WICKERSHAM had suffered a gunshot wound to the head.
If you have any information on this case, please contact the Deschutes County Sheriff's Office at 541-693-6911.