Mission Statement
The Mission of The Deschutes County Sheriff's Office is "Proudly Serving our Community by delivering superior public safety and service."
Our Values
Members of the Deschutes County Sheriff's Office are committed to the following values:
Servant Leadership - a leader, who selflessly serves others by example, works to provide necessary resources and assists others to develop their skills and abilities.
Respect - Our employees display humility while treating others with fairness and dignity.
Discretion - We expect our employees to enforce the spirit of the law, to be flexible in finding solutions to problems and to use common sense, good judgment and compassion, keeping in mind what is the best outcome for the community.
Loyalty - We display loyalty to the Sheriff's Office, each other, the community and trust that each member supports and is dedicated to the Mission and Values of the Sheriff's office.
Sense of Humor - We recognize that humor, employed in a timely and appropriate manner, is vital to the well being of our agency and its members.
Integrity - We value honesty and high ethical standards. We will do what is right in difficult situations, despite pressure to do otherwise.
Teamwork - We are a team, with each member pulling a share of the load and working to achieve team goals.
Quality Service - We recognize that the citizens are our customers and although we cannot please everyone we are committed to excellence and we will do our best to provide unbiased quality service.
Professionalism - We are committed to the highest level of competence and professional conduct.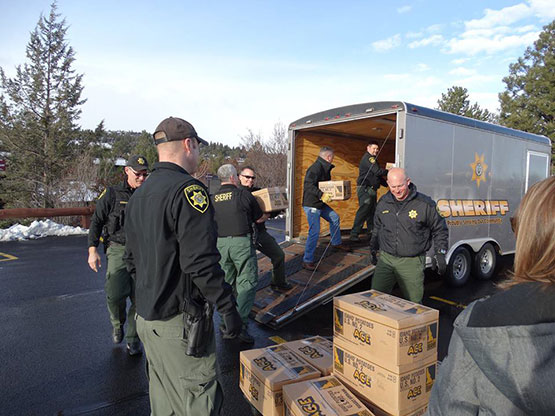 Helping SYSCO Foods & La Pine Food Baskets deliver meals
Our Vision
The Deschutes County Sheriff's Office is a highly competent and professional organization providing public safety and security for Deschutes County citizens and visitors. We are a valued member of our community for creating a sense of security and safety.
The Deschutes County Sheriff's Office strives for excellence and demonstrates the highest ethical and moral standards. We are accountable for our actions, work in partnership with other public service agencies and support continuing education for the community and ourselves.
The Deschutes County Sheriff's Office is proactive in meeting the ever changing needs of its citizens and is a leader in providing innovative and effective public safety and security. In today's uncertain world, the Deschutes County Sheriff's Office is committed to public safety and accountability to the citizens we serve.