​Automotive Shop
Deschutes County Sheriff's Office Automotive Unit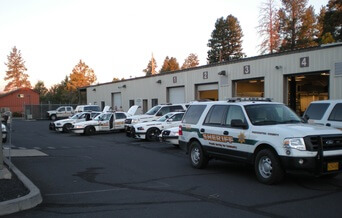 Deschutes County Sheriff's Office Automotive ​Unit is located at 63360 Britta St., #4 Bend, OR 97703 and consists of a 5 bay full service shop for cars and light trucks, a parts stock room, a fabrication bay, a snowmobile/ATV bay, tire storage racks​, containers, and offices.

The Automotive ​Unit manages and maintains over 183 vehicles. This number encompasses vehicles used for Patrol, Detectives, C.O.D.E. (Central Oregon Drug Enforcement) and S.W.A.T which combined are driven a million miles annually. Each patrol vehicle averages 50,000 miles on average. Administrative, Jail Transports, Search and Rescue, Communications, Building Maintenance, Civil Division, Training, Chaplaincy, Field Law Enforcement Technicians, Etc are also driven a million miles annually. In addition to the automotive fleet, the Automotive Unit also services and maintains an array of 43 trailers, 17 ATV's, 15 snowmobiles, 6 boats, generators, armored vehicles, and Mobile Command Units.

The D.C.S.O. Automotive ​Unit maintains electronic and paper records on all vehicles and equipment. All employees are required to be A.S.E. certified. The Automotive ​Unit is currently staffed by three dedicated individuals who provide essential law enforcement-specific support; one Fleet Manager and two Fleet Technicians. All Automotive Unit staff can be available for after-hours callouts when needed. The scope of duties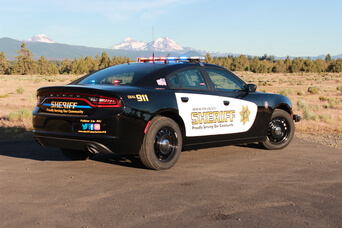 performed varies widely. Examples of responsibilities include:


Preventative Maintenance, inspection, and repair of the entire D.C.S.O. Fleet and equipment.


Vehicle preparation and up-fitting as well as decommissioning vehicles at end of their life cycle.


Management of parts and tire inventory for vehicles and equipment.


Aiding in the preparation and sale of retired and seized vehicles at public auction.


Design and fabrication on a multitude of constant projects and tasks (welding, woodworking, wiring, etc.).


Seasonal Tire changes. Studded and studless tires are both used on most Sheriff's Office vehicles during winter months.


Vehicle mechanical inspections provided for police agency investigations.


Vehicle logistics and support for major crime scenes, snow storms, and large fires.


Roadside assistance and towing for Sheriff's Office vehicles when necessary.


Scheduling and transport of vehicles to third party vendors when necessary.


Vehicle/equipment bids, procurement, and vendor selection. ​