Detective Division Commander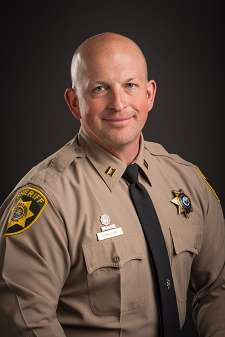 Detective Division Commander
Captain Paul Garrison​
Detective Division Commander Captain Paul Garrison began his career in Law Enforcement in 1994 as a reserve police officer for the City of Bend, Oregon. He was hired as a full-time sworn police officer in 1995 by the Black Butte Police Department and in 1997 Captain Garrison was hired as a patrol deputy by the Deschutes County Sheriff's Office.
Captain Garrison has served in a variety of assignments with the Deschutes County Sheriff's Office including deputy sheriff, field training officer, firearms instructor, less lethal instructor, less lethal master instructor, use of force instructor, Excited Delirium instructor, confrontation simulation instructor, Range 3000 instructor, Taser instructor, Central Oregon Emergency Response Team member (CERT – multi-jurisdictional tactical team), detective, patrol sergeant, training coordinator, patrol lieutenant, team leader and then team commander of the Sheriff's Office SWAT team.
Captain Garrison earned an Associate of Arts degree from Central Oregon Community College and has completed additional course work at Portland State University, Los Angeles County Sheriff's Special Enforcement Bureau, and the Oregon State Sheriffs' Association Command College.
Captain Garrison was promoted to the rank of Patrol Sergeant in 2004 following his assignment as a criminal detective. Captain Garrison served as Training Coordinator for over four years, Team Leader of the SWAT team for two years and as Team Commander since 2010.