History of Deschutes County Sheriff's Office
Past and Present Sheriffs
Sheriff Samuel E. Roberts, 1916 to 1929

S. E. Roberts, the man who served as the first Chief of Police in Bend, was appointed in 1916 to become the first Sheriff of Deschutes County when the new county was formed in 1916 from Crook County. His appointment came on Dec. 13, 1916, less than a week after the new county was formed. Roberts was appointed by the County Court, which had been named by the Governor.

Roberts, the man who was picked to serve as the first Sheriff of new Deschutes County, was born on July 12, 1876 in Wamic in Wasco County. Before being named Sheriff he was Chief of Police in Bend for five years. Roberts came to Bend on Jan. 20, 1910, by horse and buggy from Shaniko, which now is a ghost town northeast of Bend. He came to the central Oregon city with his uncle, D. M. Roberts, and a friend, who were seeking land. However, Roberts did not file a homestead in the area. Instead, he became a locator -- a guide for others seeking land on the high desert.

Roberts was Sheriff of the county when three trappers from Bend were reported missing and feared murdered at Little Lava Lake. When the ice broke the following Spring, the bodies of the three men, who had been shot, came to the surface. Sheriff Roberts and his Deputy, Clarence Adams, headed the investigation into the triple murder. During his tenure, Roberts was known for his "dry enforcement campaign. " Alcohol prohibition was in effect throughout Roberts' service and he vigorously enforced the law. Records show that in 1924, Roberts had confiscated 62 moonshine stills in Deschutes County. Fines for violations of prohibition amounted to $10,000 between 1916 and 1924. An estimated 16,600 gallons of mash and 986 gallons of moonshine were seized and destroyed when Roberts was Sheriff of the county. After retiring as Sheriff, Roberts was an oil company representative in Deschutes County.
---
Sheriff Claude L. McCauley, 1929 to 1953


Claude L. McCauley followed Roberts when he was elected to the first of six consecutive four-year terms as Sheriff in 1929. He was leader of law enforcement in the county until 1953.
McCauley was born in 1882 in Freeport, Ill. He attended grade and high school in Rock Grove, Ill. When he moved to Oregon, he signed on as Superintendent of Maintenance and was an engineering aide and civil engineer for the State Highway Division from 1912 to 1918. He owned and operated sawmills in 1919 and 1920 at Bend, Linnton and OdeIl Lake.
---
Sheriff Forrest 'Poe' Sholes, 1953 to 1981


Forrest C. "Poe" Sholes followed McCauley with an even longer series of consecutive terms. He first was elected in 1953 and served seven straight terms in four different decades. Sholes was born in Bend in 1919 and lived in the area all his life. He got his nickname from his little brother, who had a tough time saying "Forrest." He graduated from Bend High School and spent time in the Marine Corps after he graduated. When he came back to Bend in 1946, he was hired as a patrolman with the Bend Police Department. In September, 1949, he went to work as a Deputy under Sheriff McCauley. A little more than four years later, McCauley decided not to run for another term and encouraged Sholes -- his only Deputy to seek the position. For the first few years, Sholes and his wife, who was the jail cook, lived in a little room above the jail.
---
Sheriff James LeRoy France, 1981 to 1987

Sholes won seven consecutive elections. Many times, he did not face any opponents. In 1978, he was beaten in the primary by James LeRoy France, who served from 1981 to May 1987. France, the former Chief of Police in Sisters was born in Salem on May 13, 1943. He served in the Navy from 1962 to 1964. France resigned from the office in April 1987, and Darrell Davidson was appointed to fill the vacancy.
---
Sheriff Darrell D. Davidson, 1987 to 1996

When Davidson joined the agency only a handful of persons were working for the office. Davidson was one of three Deputies and the staff also included Sheriff Forrest C. "Poe" Sholes and two jailers. Today, more than 200 persons work for the Deschutes County Sheriff's Office. When Davidson joined the office in 1966, he signed on as a patrolman. He went on to serve as Undersheriff under Sholes and James LeRoy France, who was Sheriff from 1981 until he resigned in 1987. Davidson ran for the office in May 1988, and was elected to begin a four-year term in 1989.
---
Sheriff Greg T. Brown, 1997 to 2000
Sheriff Brown served as the 5th Sheriff of Deschutes County from 1997 to 2000. In December 2000, outgoing Sheriff Brown was named Oregon Sheriff of the Year for his work on legislation requiring counties to house inmates with terms of less than one year. In November of 2000 Brown was defeated in his bid for a second term by Bend Police Lt. Les Stiles.
---
​Sheriff Les Stiles, 2001 to 2007

The Sheriff's race between Brown and Stiles was the most expensive in Deschutes County history, with the two candidates spending more than $182,000. Stiles won with more than 65 percent of the vote. In June 2004, the Deschutes County Sheriff's Office under the direction of Sheriff Stiles, became only the 2nd Sheriff's office in the state of Oregon to receive the Oregon Accreditation Alliance certification. Re-certification was attained in May 2007. Sheriff Stiles' campaign promise to secure permanent funding for the Sheriff's Office came true in a tight election in November 2006 that hinged on a thin margin of rural county voters. Deschutes County, for the first time in its history will have two permanent taxing districts - one countywide and one rural - to fund the Sheriff's Office through 2021 beginning July 1, 2007. Sheriff Stiles announced his retirement effective April 15, 2007. Undersheriff Larry Blanton was appointed Sheriff by a unanimous vote of the Board of County Commissioners until Stiles' term ends in 2009.
---
Sheriff Larry Blanton, 2007 to 2015


Appointed Sheriff in 2007, Blanton served the rest of Sheriff Les Stiles' term, ending the first Monday of January, 2009. Sheriff Blanton was elected Sheriff in January 2009 and again in January 2013. Larry has been in law enforcement in Oregon for almost 30 years. Blanton started his law enforcement career in 1976 as a Reserve for the Bend Police Department. He started full-time in Deschutes County in 1985. Most recently, he served as Undersheriff of Deschutes County. He and his wife have lived in Bend all their lives.
---
Sheriff Shane L. Nelson, 2015 to present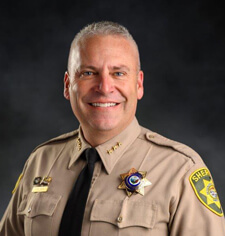 Sheriff Nelson has been in law enforcement in Oregon since 1993. The Deschutes County Commissioners unanimously appointed Nelson as the 9th Sheriff of Deschutes County in July 2015 to replace the retiring Sheriff Larry Blanton. He was born and raised in Bend and graduated from Mountain View High School in 1988. After graduating from Oregon State University in 1993 he moved back to Bend and has been an active member of the community ever since. Lisa, his wife is a City of Bend Police Officer. They have four children.