Join The Sheriff's Office
Are You Considering a Career in Law Enforcement?
Apply Here for a job with Deschutes County Sheriff's Office, or view our list of current job openings.
A career in law enforcement can be a very challenging, fulfilling and interesting choice of professions. The following are guidelines that may offer you a better chance of getting into this profession:
High School Years
a) A strong background in English, writing and speaking skills is an absolute necessity! These skills are constantly used, whether it is preparing written reports, testifying in court or communicating with others through interviews, etc. In doing large numbers of interviews of potential applicants over the past 20 years, these skills are often found to be sadly lacking and one of the main reasons someone doesn't get hired for a position.

b) Math and science skills. There are a number of venues within law enforcement, such as forensics, accident investigation, etc. that use math and science skills, so being well-grounded in these skills can't hurt.

c) Computer skills. Law enforcement, like any other profession, has become increasing dependent on computers and related technology. Basic computing skills are used in the day-to-day business of law enforcement, including computers in patrol cars.

d) Physical fitness. Working in law enforcement is a physically demanding profession. It is often highly stressful, usually requires working shift work and your very life could depend on what kind of shape you are in. Being in shape, eating correctly and taking care of yourself in healthy ways will pay big dividends down the road, no matter what line of work you get into. In order to be eligable for any position with the Deschutes County Sheriff's Office, you must pass the Oregon Physical Abilities Test (ORPAT). It is a hybrid physical ability—job sample physical abilities test, measuring the essential physical capacities required to satisfactory perform the duties of a Law Enforcement Officer. ORPAT was originally based on data from the RCMP PARE Research and Tests, as well as multiple Job Task Analysis for Police, and Corrections and Probation and Parole.

ORPAT Process Description
Instructor Training and Certification Requirements
Station-by-Station Illustrations—Physical Activity Description
Equipment Descriptions and Prices
Alternative Options for Equipment
e) Stay out of trouble!

This often poses the biggest challenge for potential law enforcement candidates. It doesn't mean you have to be a "dweeb", "nerd" or "preppie" during your high school years, but a potential candidate with three pages of driving history, an arrest for MIP or Possession of Marijuana, or someone having an extensive juvenile history will get passed over every time! Would YOU want to hire someone with a history like that?

Many police officers working today may have had "run ins" with law enforcement when they were younger, but the smart candidate knows when to quit, not crossing a line that gets them into trouble and then keeps them from becoming a potential candidate down the road when they get older.

f) Get started on your career early:
Depending on where you live, some law enforcement agencies have cadet programs, which allow young people under 21 to become involved in law enforcement. There are, of course, restrictions on what you can do, and while you might be in a uniform, you won't be packing a gun! Getting an early start like this allows you to become familiar with the "in's and out's" of law enforcement so that when you reach 21, you can be a better-prepared candidate for a full-time, sworn position.

Almost ALL law enforcement agencies are set up in a semi-military type organization, so getting involved in NJROTC or similar programs can also add to your advantage.
After High School
Military duty or continuing education: Since most law enforcement agencies won't even consider hiring you until you turn 21, you have a few years to make yourself a better candidate. Consider enlisting in the military; many police officers working today served in the military. They learned skills there that helped them get hired, and since law enforcement is set up in a semi-military organization, you're that much further ahead. Serving your country also adds to your maturity level and can be very self-satisfying.

Depending on what part of the country you are looking to work in, most law enforcement agencies won't even considering hiring you unless you have, at a minimum, a two-year college degree. For example, COCC offers a two-year Associate of Applied Sciences degree in Criminal Justice. Those same basic skills listed above under Section 1 have now been improved upon, making you a better candidate. You also receive an education in some of the "meat and potato" skills used daily in law enforcement, such as Sociology, Psychology and Human Relations.
Are all Law Enforcement Agencies the Same?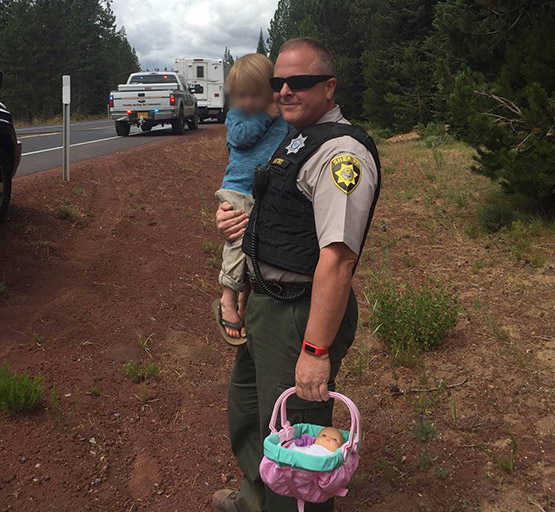 A pic sent to us from a family who thanked Dep. Winters for coming to their rescue along Cascade Lakes Hwy.
Federal agencies: such as the FBI, Secret Service, Border Patrol or the Bureau of Alcohol, Tobacco and Firearms. Military police agencies are also at this level. Depending on which agency you might be considering, the job descriptions and responsibilities vary widely. Working for a Federal agency means you may have to move, often, to whatever part of the country you are needed in.

State Agencies: such as Highway Patrols, State Police, etc. These agencies are often tasked with enforcing traffic laws on state highways. They also may have specialty units within the larger organization as well. For example, in most states, state agencies oversee Crime Labs, who are responsible for "CSI-type" activities for all agencies within their respective states.

Local agencies: these would include local Police Departments and Sheriff's Offices. Personnel in these agencies generally start their careers "on patrol", working the street. They may be responsible for enforcing traffic laws, conducting criminal investigations, or working as school resource officers, etc. Someone hired by a Sheriff's Office can also consider working in the jail, as, by law, Sheriff's Offices in most states, including Oregon, are responsible for the jail in each county.

Only after doing some time on the street can you consider working "detectives" or some of the other specialized venues that seem to be glamorized so often. Most agencies want you to have a strong patrol foundation before they will consider putting you in a specialty position.
How Does the Hiring Process Work?
Getting hired is the first part of the process. If you've kept your nose clean, and completed all or most of the things listed above, you might find yourself applying for a law enforcement position. This process can vary from agency to agency, but generally is as follows:

(a) Apply for the position. This may be from an ad in the paper, or through job fairs or recruitment. This generally involves a rather complete application and background history, with a request for lots of references.

(b) If you pass the first phase, you'll generally be scheduled for a written and physical exam. The costs of these are generally picked up by the agency you are applying to.

(c) If you pass the exams, you may be called in for an oral interview. This may contain a number of scenarios, where you will asked to demonstrate your skills in different areas. Some may be with a 3-5 person panel, answering questions they may have. Others may include role players, so that the assessors can watch how you deal with situations and how you interact with others.

(d) If you do well in #b and #c above, you may be called in for a "one on one" interview with the Sheriff or Captain. If a contingent job offer is made, you will be subject to a thorough background check, physical exam and psychological exam.

(d) Honesty, ethics and a strong moral character are the biggest assets you can bring to the job. Focus on them...believe in them...practice them, in everything you do. All it takes is one bad apple to spoil the bunch...a cop on the "take" ruins everything for all the honest cops who are out there.
What Happens After I Get Hired?
Again, the process differs depending on who you are hired by and where you go to work. Generally, however, this is the process:

Training: you may have come into this position thinking you've had all the training you'll need to do the job....WRONG! If you are hired, you can plan on attending formal law enforcement training. This might be for a period of 16 weeks to six months, depending on who hired you. In Oregon, for example, anyone hired by a local or county agency must attend the State Academy in Salem. This has to occur within one year of you hire date; Oregon's academy is currently approximately 16 weeks for patrol, and a little less for Corrections Officers.

If you are hired and have to wait until the next academy class starts, you will be assigned an "FTO" (Field Training Officer). Your "coach" is responsible for making sure you are learning and doing things correctly. After you attend the academy and return, you will again be assigned an FTO. This may last another 16 weeks. You will be evaluated daily and given guidelines for areas in which you may need to improve. The idea is to make sure you have a solid foundation on which to build your law enforcement career.

When you are hired, you start a "probationary" period. This will last for 18 months. During that time, you can be released from employment for any reason, so this can be a stressful time. Doing well, taking constructive criticism and keeping an open mind to new ideas can help you get through this time period.