Animals Available for Adoption
These animals are available for immediate adoption from Deschutes County Sheriff's Office. If you're interested in adoption an animal, please fill out a Livestock​ Adoption​. Deschutes County Sheriff's Office does NOT charge an adoption fee for any of these animals, however, potential adopters must complete an adoption application and pass a criminal history background check. In addition, an on-site inspection of a potential adopter's facilities will be completed to ensure that an adopted animal can be adequately cared for. The Deschutes County Sheriff's Office also reserves the right to "spot check" any adopted animals for a period of one (1) year to ensure their continuing health and welfare. Community members needing more information or interested in adopting one of our animals can contact Technician Mariya Leufven at 541-617-3368.
We also encourage you to view additional horses available for adoption at Equine Outreach, Three Sisters Equine Refuge, the Oregon Humane Society, Humane Society of Central Oregon, or Brightside Animal Center.
Cody
This good looking blue-eyed paint was recently gelded (mid-March, 2015). "Cody" is approximately 15-16 years of age has a great personality and is in excellent health. We believe that he has had some past training and may have been ridden on the past. He recently had all four of his hooves trimmed; while he was a little tentative at first, he settled right down and the farrier work was completed with no issues. As you can see, he's not a tall horse. We think with the right remedial training, in the hands of someone who knows what they are doing, he'd make an excellent mount for a teen or smaller adult rider.
***Note: Cody is currently participating in the Oregon Rescue Challenge where he will receive 120 days of training and will be available for adoption on June 29th and 30th at the Rim Rock Riders Event Center in Powell Butte. Anyone interested in adopting Cody should contact Technician Mariya Leufven in advance at 541-617-3368 to start the adoption process.
​
​Storm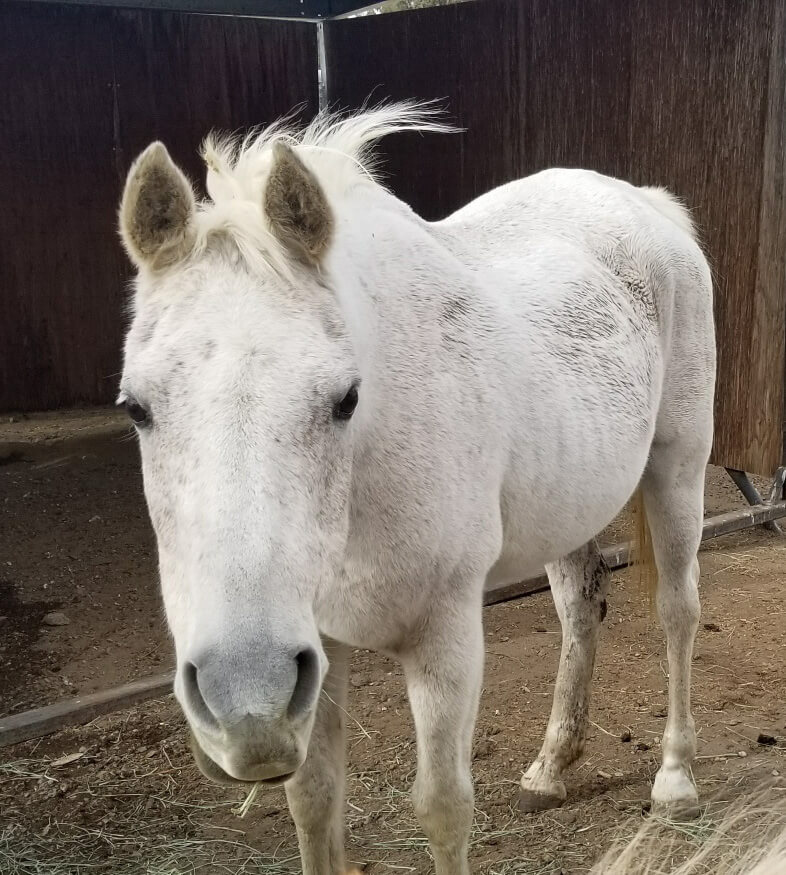 Storm is an Arab mix who is in her early thirties. She is a curious creature who enjoys treats, belly rubs and getting her hooves trimmed/cleaned. Storm might be shy at first but will definitely enjoy hugs and kisses once she gets to know you. Storm is looking for that special little girl to spoil her.
Dani
Dani is a big (16+ hands) robust Thoroughbred mare, somewhere in her mid-teens to early 20s. She was abandoned in the La Pine area and came into our care in late 2013. She is in good health, with no apparent pre-existing problems. While she generally has a friendly personality, she can be a little "stand-offish" at times. She will generally mellow out and be agreeable to handling after someone has spent some time with her and earned her trust. We believe that she has had training in the past, and with some work, could probably be ridden. She does have some "fire" to her, in typical Thoroughbred fashion, so she would do better with an experienced owner.
​
Lullaby
Lullaby is a dark bay POA mare, approximately 9-11 years old. She's in good health and while she can have a bit of an attitude at times, she'll generally come around once someone has earned her trust. Given that she came in with several other horses that had prior training and had been ridden, we think she has too. She needs an experienced owner who knows what they are doing.
***Note: Lullaby is currently participating in the Oregon Rescue Challenge where she will receive 120 days of training and will be available for adoption on June 29th and 30th at the Rim Rock Riders Event Center in Powell Butte. Anyone interested in adopting Cody should contact Technician Mariya Leufven in advance at 541-617-3368 to start the adoption process.
​
Patti
Patti is a 20+ year-old dark bay mare. She was abandoned, so we don't have much information on her. She is, however, in good health, and based on our interactions with her, we're pretty sure she's had some past training, to include being ridden. Because of her age, we think she would do well as either a "pasture buddy" or a mount for a smaller teen/adult who has some past horse experience.
​
Pippin
Pippin is a neutered male pig. We THINK he's a large potbelly breed and is anywhere from 3 to 5 years old. Since he was abandoned, and we don't know who the previous owner is, we don't have a lot of information about him. He's generally pretty pleasant, but in typical pig fashion, he does like to root and roam. He's in good health with no known medical issues.
Dominica / Nestor
These two standard donkeys came to us from a neglect case. Dominica is an approximately 12-15 year-old jenny and Nestor is an approximately 16-year old gelded jack, born in 1999. They were quite overweight when they first came to us but have been on a weight loss program while in our care and are doing quite well.

Their primary issue was that neither of them had seen a farrier for almost three years and their hooves were horribly overgrown. Those issues were taken care of soon after they arrived at our facility and they haven't displayed any other related issues. However, our veterinarian advises that these two should all be considered as "foundered", will probably be prone to laminitis and should be considered as either diabetic or pre-diabetic.

While those issues sound ominous, they can, in fact, be adequately dealt with through diet. While they've been in our care, they've been fed bluegrass, which is available in Central Oregon, and anyone adopting them would need to keep to that diet. They would NOT do well grazing on a green field during the spring, summer and early fall…they would probably experience a recurrence of diabetic-related issues. For that reason, they would be best suited to a dry lot. They could be released to open fields, however, during the late fall and winter months when any available grass has "browned out".
Bluegrass hay, adequate water, no grain, no pellets, and no pellet-based dry minerals/supplements… powdered minerals and supplements only!

With some constant on-going handling, they've gone from being somewhat evasive to being generally friendly, with inquisitive personalities. They recently had their hooves trimmed and tolerated that quite well. Based on what we know and what we've seen, they would be (or could develop into) good companion animals for other stock.

Because they have been together for so long, we would prefer that both donkeys be adopted out together to a new home. Taking on two animals, however, can be a load, so we're open to suggestions. If only one donkey is adopted to a new home, we would suggest that there be other livestock animals present to provide companionship.
​
Eddy and Gerald
Eddy and Gerald are neutered goats that are perfect for any noxious weed problem someone might have. These silly boys will keep you entertained for hours. They love their treats and are now enjoying their testosterone free life.
​