Classes
---

Concealed Handgun Licensing Class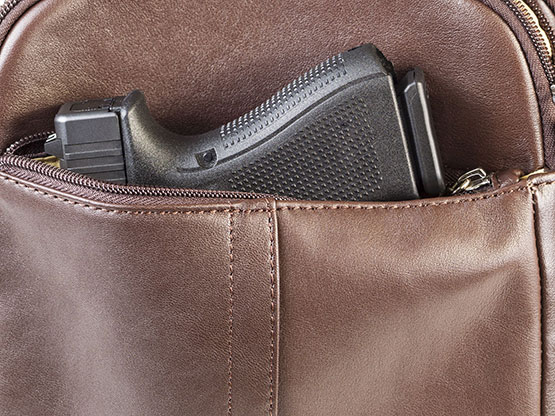 The Deschutes County Sheriff's Office offers Concealed Handgun Licensing classes to the public. You must register to take this class. ​Class size is limited to 40 people in order to ​allow participants to be fingerprinted and photographed during the class. Once this class has been completed, you will not need to make an appointment to get your Concealed Handgun License. Your permit will be mailed to you using the self-addressed stamped envelope you provide.
The class fee is $90.00; this covers both the class and your handgun license. If you want to take the class and get your license in another county the class will cost $25.00.
Location:
Deschutes County Sheriff's Office: "MAC"
Training Room on the 2nd Floor
63333 W. Hwy 20
Bend, OR 97703


---

Seat Belt Safety Class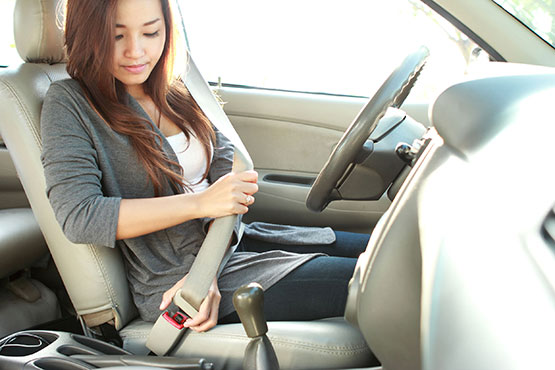 Located at: Deschutes County Sheriff's Office 63333 Hwy 20 West Bend, OR 97703
Dates: (CANCELLED)​
Please bring the following items with you to class: Court Paperwork and $35.00 Cash
You must have court paperwork with you at the time you register and you cannot be past the expiration date listed on the paperwork or you will not be able to take the class. If you are passed the expiration date listed on the paperwork you must return to the court for an extension.
There is no ATM available at our facility so you will need to plan ahead and bring cash with you. We are not set up to take Debit/Credit cards and checks will not be accepted for the class.
Doors open at 6:30 pm and registration is in the lobby of the sheriff's office the night of the class (address listed above). Class begins at 7:00 pm. No one is allowed in after class begins (Doors automatically lock).
All Classes Are the 2nd Monday of Even Months. Class usually lasts approximately 2 hours​
​
---
Take Care Be Aware
Awareness and Personal Protection Class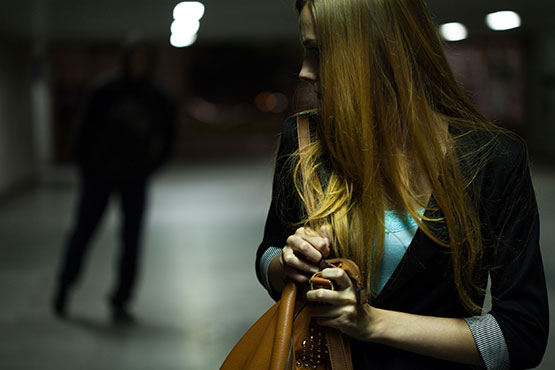 Located at: Deschutes County Sheriff's Office 63333 Hwy 20 West Bend, OR 97703​
Dates: (CANCELLED)
Time: Registration starts at 5:30p.m. – no pre-registration is necessary Class is 6:00 p.m. to 9:00 p.m.
Cost: FREE Age: This class is open to citizens ages 15 and above (Ages 15-17 must be accompanied by an adult)
The Deschutes County Sheriff's Office is proud to offer the citizens of Deschutes County an awareness and personal protection class at the main Sheriff's Office located at 63333 W. Highway 20, Bend.
This class is designed to:
Heighten your personal awareness of your surroundings
Teach you how to interpret a situation that doesn't seem right
Train you on how to decide what your choices are in reacting
Learn how to implement your decision
In today's world, this one-of-a-kind training is key to knowing that your self assessment of a situation is probably in the 40% to 70% range of being correct. You'll learn that waiting until you feel you are 100% certain, it may be too late.
This class will teach you that your personal safety starts with an awareness of your surroundings and making decisions based on your observations. Come listen to instructors give you information on what to look for and hear some advice regarding steps to take in protecting yourself and your family. You will observe some basic self-defense tactics and leave with a complimentary personal protection device.
---
Pretty Tough – Self Defense Options for Women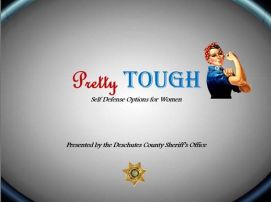 Your Sheriff's Office invites women, 14 years and older, to participate in a free personal safety course entitled "Pretty Tough-- Self Defense Options for Women."
In survival mode the human brain will search its memories ("brain files") to determine how to solve a scenario it may currently be facing. If ever find yourself in a situation where you may need to defend yourself, these "brain files" will help. Creating a plan under duress is difficult at best. Why not take this opportunity to make a plan and learn simple techniques that will help you survive?
In this series, participants will be provided training and have the opportunity to solve many types of scenarios through open discussion and demonstration. They will also learn the importance of having an "emergency plan" in case they have to defend themselves.
Deputies who teach Defensive Tactics have designed and instruct this hands-on class. Our goal is to empower women with tools and a mind-set to maintain personal safety and to successfully confront and survive potentially dangerous situations. A focus on situational awareness and training in physical self-defense techniques provide options to reduce the risk of abuse and attack.
This class occurs on two evenings (one session per an evening), during the same week from 6 p.m. to 9:30 p.m on March 24th and 26th. Registration begins 30 days before the course starts. ​Courses held four times per year. Special requests from the community are considered on a case by case basis, with at least 10 confirmed participants.

Qualifications:
Minimum 14 years of age (under 16 must be accompanied by an adult)

No criminal history of felony or violent misdemeanor crimes

To Register:

Use our online registration form ​at this link, 2-Day Pretty Tough Self Defense Class

Plan to attend both sessions

Please cancel your registration before the first session if you cannot attend

Due to the space, class size is limited to 20 participants

You may register yourself and up two to other people.
Dates: (CANCELLED)
Registration begins 30 days prior.
Location: In the Deschutes County Sheriff's Office M.A.C. Training Room. Please see our location on the map below.
If you have any questions or concerns that may arise prior to the class, please contact Sergeant Zach Steward at Zachary.Steward@Deschutes.org​