Classes
---

Concealed Handgun Licensing Class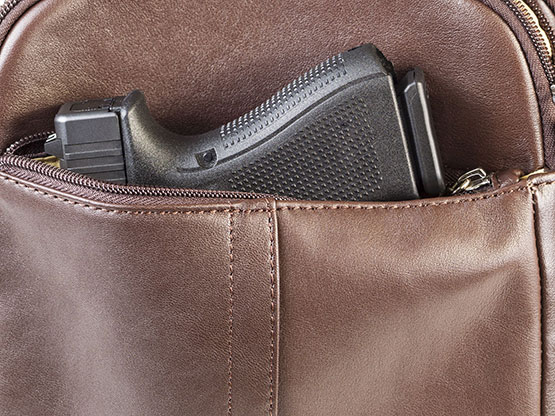 The Deschutes County Sheriff's Office offers Concealed Handgun Licensing classes to the public. You must register to take this class. ​Class size is limited to 40 people in order to ​allow participants to be fingerprinted and photographed during the class. Once this class has been completed, you will not need to make an appointment to get your Concealed Handgun License. Your permit will be mailed to you using the self-addressed stamped envelope you provide.
The class fee is $140.00; this covers both the class and your handgun license. If you want to take the class and get your license in another county the class will cost $25.00.
Location:
Deschutes County Sheriff's Office: "MAC"
Training Room on the 2nd Floor
63333 W. Hwy 20
Bend, OR 97703


---
Mandatory Boater Education Class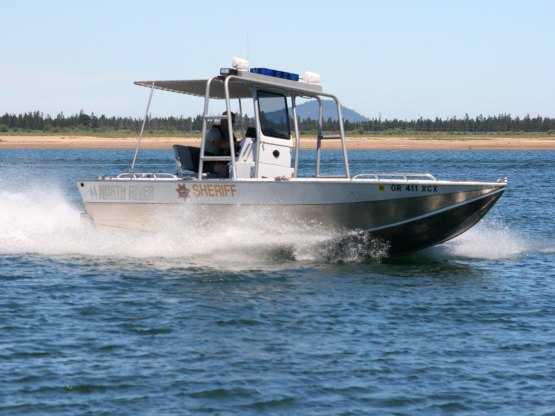 Boater Education Courses
July 15th, 2023 from 0900-1200 | August 12th, 2023 from 0900-1200
Class Location:
Main Sheriff's Office, 63333 W. Highway 20, Bend, OR, 97703
The Mandatory Boater Education law, passed by the 1999 Oregon Legislature, requires ALL Oregon resident boat operators of powerboats greater than 10 horsepower (including personal watercraft) and youths 12-15 operating ANY size powerboat, to take a course on basic boating skills and pass a written test to demonstrate basic boating knowledge. Upon passing a written test or approved course of instruction, the boater can apply for a boater education card which must be carried when operating a powerboat on Oregon waters.

This class is not intended for first-time boaters; those taking this class should have some previous boating experience, and should study the "Boat Oregon" study guide. Those guides are available free at the main Sheriff's Office in Bend, any of the Sheriff's Office substations in Terrebonne, Sisters or La Pine, and at All Seasons RV & Marine and Central Lake Marine in Bend.
There is no cost to attend this class; students watch a video, have a short Q & A session and then take a 75 question multiple-choice answer test. Students who receive a 70% or better score on the test will be provided with the necessary paperwork to get their card, which costs $10 from the Marine Board. This is a one-time fee…the card is not a license, does not need to be renewed and is good for life. Many insurance companies offer a slight discount on boat insurance rates (when insurance may be required, as when financing a boat), for those who successfully obtain their cards. This class does not require prior registration. Attendees should respond to the main Sheriff's in Bend, arriving just prior to the 9am start time.
For More Information, please call Deschutes County Sheriff's Office at (541) 388-650​1. Additional information can be found at Oregon State Marine Board​ or www.boatoregon.com.
​
---
Take Care Be Aware
Awareness and Personal Protection Class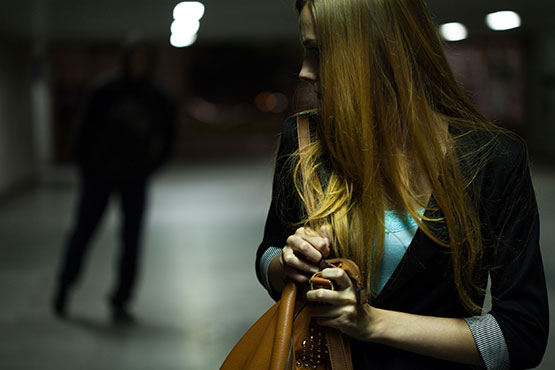 Located at: Deschutes County Sheriff's Office 63333 Hwy 20 West Bend, OR 97703​
Dates: (CANCELLED)
Time: Registration starts at 5:30p.m. – no pre-registration is necessary Class is 6:00 p.m. to 9:00 p.m.
Cost: FREE Age: This class is open to citizens ages 15 and above (Ages 15-17 must be accompanied by an adult)
The Deschutes County Sheriff's Office is proud to offer the citizens of Deschutes County an awareness and personal protection class at the main Sheriff's Office located at 63333 W. Highway 20, Bend.
This class is designed to:
Heighten your personal awareness of your surroundings
Teach you how to interpret a situation that doesn't seem right
Train you on how to decide what your choices are in reacting
Learn how to implement your decision
In today's world, this one-of-a-kind training is key to knowing that your self assessment of a situation is probably in the 40% to 70% range of being correct. You'll learn that waiting until you feel you are 100% certain, it may be too late.
This class will teach you that your personal safety starts with an awareness of your surroundings and making decisions based on your observations. Come listen to instructors give you information on what to look for and hear some advice regarding steps to take in protecting yourself and your family. You will observe some basic self-defense tactics and leave with a complimentary personal protection device.
---
Pretty Tough – Self Defense Options for Women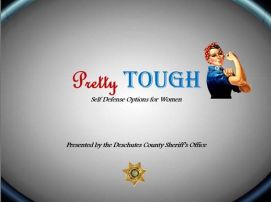 Your Sheriff's Office invites women, 14 years and older, to participate in a free personal safety course entitled "Pretty Tough-- Self Defense Options for Women."
In survival mode the human brain will search its memories ("brain files") to determine how to solve the problem. If you are in a situation where you may need to defend yourself, these "brain files" will help. Creating a plan under duress is difficult at best. Why not take this opportunity to create these "brain files" and learn simple techniques that will help you survive?
In this series, participants are provided training and have the opportunity to solve many types of scenarios through open discussion and demonstration. They will also learn the importance of having an "emergency plan" in case they must defend themselves.
Deputies who teach Arrest and Control techniques have designed and instruct this hands-on class. Our goal is to empower women with tools and the mind-set to maintain personal safety and to successfully identify, confront and survive potentially dangerous situations. A focus on situational awareness and training in physical self-defense techniques provide options to reduce the risk of abuse and attack.
This class occurs on two evenings (one session per an evening), during the same week from 6 p.m. to 9:30 p.m.
Registration begins 30 days before the course starts.
Courses held four times per year.
Special requests from the community are considered on a case-by-case basis, with at least 10 confirmed participants.
Dress for physical activity and hydrate before and after classes.
Dates:
| | |
| --- | --- |
| March 20th and 22nd, 2023 | 6pm to 9:30pm |
| June 20th and 22nd, 2023 | 6pm to 9:30pm |
| September 5th and 7th, 2023 | 6pm to 9:30pm |
| December 12th and 14th, 2023 | 6pm to 9:30pm |
Location: Deschutes County Sheriff's Office, 63333 Hwy 20 W, Bend, OR 97703
To Register:
If you have any questions or concerns that may arise prior to the class, please contact Sergeant Zach Steward at Zachary.Steward@Deschutes.org​