Reserve ​Academy
Upon completion of the Reserve Academy, Reservists ride with Regular Deputies to gain actual field experience. Reserve deputies are required to perform at least 10 hours of volunteer service per month.
Reserve Deputies may perform most of the same duties as Regular Full-time Deputies, when working as a reserve deputy and are trained Law Enforcement Professionals. Levels of responsibility and activity are based on training and actual in the field experience.
The Men and Women of the Reserve Deputy program purchase their own equipment, volunteer their time and make a substantial commitment of time and energy to the service of their Community.
Reserve Deputies from our program have gone on to become fulltime police officers all over the State of Oregon. Some of our Reserves' interest are in returning something to their community and are not looking at law enforcement as a fulltime career. We welcome persons with both interests in our program.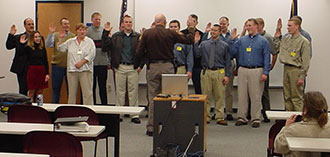 For more information contact the Deschutes County Sheriff's Office Patrol Unit at (541) 388-6655.
The Deschutes County Sheriff's Reserve Program has been an invaluable part of the Sheriff's Office for many years. These volunteers are dedicated, trained citizens, that support and assists Sheriff's Deputies in several ways, including but not limited to:
Assisting at the Deschutes County Jail
Helping out at special events, including the Sisters Rodeo and Elections Ballot securing and transport
Attending public-school activities, including dances and football and basketball games
Riding with and covering Deputies on uniformed patrol.
Traffic control
Marine Patrol
Assist Detectives
Crime-scene security
Qualification Requirements
Age 21 or older
United States citizenship
High-school diploma (or G.E.D. equivalent)
Driver's license
Ability to pass an oral interview, written test and background investigation
Ability to volunteer 240 hours per year and participate in required Reserve events
Reserve Training Includes
400+ hours of training at the Central Oregon Reserve Academy, which is recognized statewide and by DPSST
Completion of the Field Training Evaluation Program Manual (FTEP) with a qualified Field Training Officer (FTO)
Training in the use of firearms typically employed by the Sheriff's Office
Training in the Deschutes County Jail
Annual and Quarterly training covering a wide variety of law-enforcement skills
Reserve Levels and Duties
Level 1: Reserve Deputies who have completed all necessary training, have been recommended by their field training officer and the reserve coordinator for solo patrol status and approved by the Sheriff.
Level 2: Reserve Deputies who have completed the training requirements of level 3. Reserves at this level may operate Sheriff's Office vehicles, work security at special events and work alone with a level one or two reserve.
Level 3: Reserve Deputies who have completed training requirements of level 4. Reserves at this level begin practicing the training and experience gained during levels 4 and 5. These Reserves are still required to work with regular deputies.
Level 4: These are Reserve Recruits who have completed the training requirements of a level 5 recruit. Primary function is to continue training through observing regular deputies and other members of the Sheriff's Office. Uniforms and Sheriff's Office identification will be issued.
Level 5: These are Reserve Recruits and as so have no police powers or authority. Uniforms, if issued will not be worn. Sheriff's Office identification will not be issued.
Many Reserve Deputies go on to a full-time career in law enforcement. But even if you aren't considering a career, the Reserve program at DCSO provides an incredible chance to serve your community by training for and engaging in law enforcement on a professional basis.For information on joining the Reserves, contact the Deschutes County Sheriff's Office at (541) 388-6655.