K-9 Unit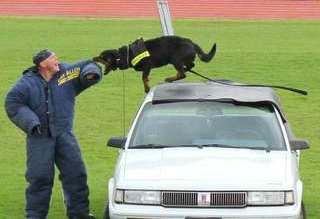 The Deschutes County Sheriff's Office currently has four K-9 teams and they are assigned to the Patrol Division. There are three tracking and apprehension K-9 teams and one narcotics detection K-9 teams. K-9 teams are on-call 24 hours a day. The K-9 teams devote a significant amount of time to ongoing training. They train individually almost every day and train with other K-9 teams in Central Oregon on a weekly basis. Being a K-9 handler is a significant commitment. Our K-9 teams also regularly assist other law enforcement agencies in Central Oregon. All of our K-9 teams are certified annually by the Oregon Police Canine Association.
Narcotics detection dogs are trained and certified to detect the odor of certain illegal drugs and will alert their handler to their presence when conducting a search. The dogs have a very sensitive sense of smell and can detect even a very small amount of the drugs they are trained to detect. Narcotics detection K-9 handlers are extensively trained in the legal aspects of conducting a search using their K-9 partner. Our narcotics detection K-9 team participates in a high number of drug interdiction stops on the highways in Deschutes County and have had a number of large drug seizures.
​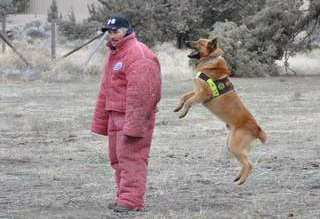 Tracking and apprehension dogs, also called patrol dogs, are trained and certified to track and apprehend criminals and conduct searches for non-drug evidence. The dogs use their sensitive sense of smell, excellent hearing and sharp eyesight to track criminals, then use their presence, including barking, to apprehend the criminal. The dogs can also bite a criminal to apprehend them if the situation requires it. Additionally, a dog's superior running speed allows them to easily catch a criminal who is running away.
​
Deputy Stacy Crawford and Molly – Molly is a four year old English springer spaniel imported from Ireland.