Marine Patrol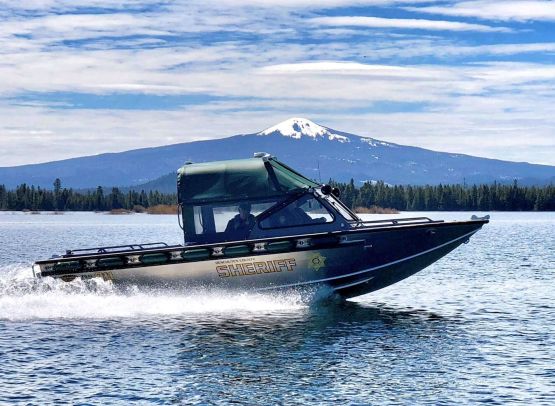 There are numerous lakes and rivers within Deschutes County. Each year, from mid-April through October, thousands of motorized and non-motorized boaters recreate on these waters. Activities include fishing, camping, water skiing, waterfowl hunting, sailing, swimming and wake boarding.

The Deschutes County Sheriff's Office Marine Patrol unit responds to and deals with law enforcement issues such as Boating under the Influence (BUI), speeding complaints, careless operation and water-related accidents. The unit conducts monthly Mandatory Boater Education classes, assisting the public in obtaining their mandatory Boater Education card. They also conduct public education classes in boating and water safety in area schools.

Because most of the high lakes are frozen over or snowbound during the winter, our marine program is classified as a "seasonal". ​Eight seasonal marine deputies, all of whom are retired law enforcement professionals, and four marine volunteers work from April through October providing a wide variety of services. They work closely with the Search and Rescue unit on drownings and other water-related accidents. They also conduct safety examinations on boats, ensuring that boaters and recreators are carrying the necessary equipment for their particular craft.

Support is provided through an annual contract with the Oregon State Marine Board. Among other things, the contract supplies funding for personnel, and the patrol boats that are used in the local program.
​
Boat Inspections
Call 541-388-650​1 to make an appointment with our Marine Program Coordinator. You can bring your boat to us or we'll try and schedule an appointment at your residence, if possible.
Resources
Mandatory Boater Education Class
Unfortunately, due to COVID-19, our Sheriff's Office remains closed to the General Public for the purposes of training events such as the Boater's Education class. There are no projected 2020 class dates at this time. Please note that there is an online class offered by the Oregon State Marine Board website (see the link below).

The Mandatory Boater Education law, passed by the 1999 Oregon Legislature, requires ALL Oregon resident boat operators of powerboats greater than 10 horsepower (including personal watercraft) and youths 12-15 operating ANY size powerboat, to take a course on basic boating skills and pass a written test to demonstrate basic boating knowledge. Upon passing a written test or approved course of instruction, the boater can apply for a boater education card which must be carried when operating a powerboat on Oregon waters.

This class is not intended for first-time boaters; those taking this class should have some previous boating experience, and should study the "Boat Oregon" study guide. Those guides are available free at the main Sheriff's Office in Bend, any of the Sheriff's Office substations in Terrebonne, Sisters or La Pine, and at All Seasons RV & Marine and Central Lake Marine in Bend.
There is no cost to attend this class; students watch a video, have a short Q & A session and then take a 75 question multiple-choice answer test. Students who receive a 70% or better score on the test will be provided with the necessary paperwork to get their card, which costs $10 from the Marine Board. This is a one-time fee…the card is not a license, does not need to be renewed and is good for life. Many insurance companies offer a slight discount on boat insurance rates (when insurance may be required, as when financing a boat), for those who successfully obtain their cards. This class does not require prior registration. Attendees should respond to the main Sheriff's in Bend, arriving just prior to the 9am start time.

Class Location: Main Sheriff's Office, 63333 W. Highway 20, Bend, OR, 97703
For More Information, please call Deschutes County Sheriff's Office at (541) 388-650​1. Additional information can be found at Oregon State Marine Board​ or www.boatoregon.com.