Animal Control
Animal Control FAQs
What are the Regulations Pertaining to my Dog?
You can find current pet regulations at the Deschutes County ​website.
Does Deschutes County have a Leash Law?
No, however it does have an "At Large" ordinance.
County Code 6.08.15 Defines At Large to mean a dog or other animal found off the premises of the owner or keeper while the dog or animal is not under the complete control of a capable person. This would allow for dogs, which are trained to be off of the leash, however would require them to be under the control of the handler.
What Should I Do if I am Bitten by a Dog?
Seek medical aid and report it.
Oregon has specific laws and rules which require dog bites be reported. They are primarily in place to prevent the transmission of disease however as a community we also want to hold owners of dangerous dogs accountable.
Specific Oregon Administrative Rules which cover dog bites are; 333-019-0024 & 333-019-0027.
What will Happen to my Dog if it Bites a Person?
Oregon laws state that if a dog punctures the skin of a person that it be quarantined for 10 days. The quarantine will require that it be kept from other animals and people and that if during that 10 day period the dog becomes sick or dies that an immediate report be made to the County Health Department.
If during the investigation it is determined that the dog owner is willing and capable of quarantining his dog then the dog can be left with the owner. If not then the dog can be taken to the Humane Society for the quarantine
What about Dog vs Livestock Issues?
Deschutes County Code 6.12 covers the dog attacking livestock. Deschutes County will immediately respond and do what we can to protect livestock and impound the attacking animals. With few exceptions dogs involved in chasing or killing livestock will be impounded and if the dog owner requests a hearing then a Board will determine the disposition of the animal.
My neighbor's cows keep coming onto my property and damaging my garden, what does it mean when the deputy said I live in "open range"?
Oregon is an open range state and unless you reside in a "livestock district" it is the land owner's responsibility to fence their property to prevent livestock from entering onto it.
A livestock district imposes specific restrictions for livestock at large within its boundaries. The ​Livestock District Map shows the livestock boundaries within Deschutes County as determined by the Department of Agriculture.
If you have questions about livestock found on your property, or that you have lost, you can contact the Oregon Brand Inspector at the Web site listed below or by calling one of the Inspectors listed below.
What Should I do if My Pet Ran Away from Home?
1. Visit our page about Lost Animals.
2. Contact 541-923-0882 ext. 200 for a current list of incoming strays.
3. Look for the stray report listed in the Bend Bulletin.
4. Contact ​your local Animal Shelter. Contact the Humane Society of Central Oregon if you live in the Bend, Sunriver or LaPine areas and ​BrightSide Animal Center if you live in the Sisters, Redmond or Terrebonne areas.
Animal Control Resources
---
Humane Society of Central Oregon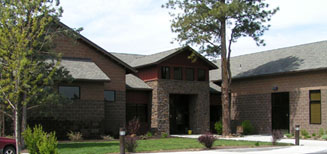 61170 S.E. 27th Street
Bend, OR 97702
(541) 382-3537
Monday–Friday 10 am to 5:30 pm
Saturday 10 am to 5 pm
Animal Receiving closes at 4:30
Animal Adoptions close ½ hour prior to the shelter closing
---
1355 NE Hemlock Ave.
Redmond, Oregon
(541) 923-0882
Mon-Fri. 10 am to 5 pm
Sat. 10 am to 4 pm
---
Oregon State Statutes dealing with Offenses Against Animals

Disposal of Animal Mortality and Byproducts
Deschutes County Livestock Range maps
Oregon Department of Agriculture/Brand Inspector
For lost or found, as well as livestock or other animals in distress, please contact non-emergency dispatch, 541-​693-6911
​